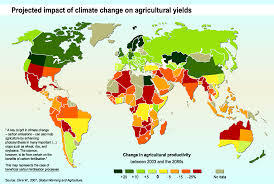 Alternatives to aid in ending poverty 2: Climate Change
This blog post refers to the previous blog post, (Alternatives to aid in ending poverty 1).
Across the MDGs, the poorest of poor receive the least aids, thus shows small improvement in rural areas. This also relates to another issue – weak government system, in which the government of developing countries relying on overseas aid for people living under poverty, rather spreading the aid to the poorest to have the basic needs.
Critics argue that MDGs' goals are missing to solve necessary issues such as debt, climate change and trade – which can impact on poverty.
Climate Change – In developing countries, nine out of 10 people experienced and devastated by climate changes1. Climate change in developing countries can cause great damage for people– particularly people living below poverty and already are struggling to survive everyday life. In fact, the World Bank states that $100 billion is needed to be donated each year to help developing countries devastated climate change – yet donor countries still have not agreed and accepted that climate aid should be the additional to the aid plans(1).
According to PIK's research, most of mother members own small or large farms, in order to raise vegetables, fruits and/or grains – including maize, beans and green vegetables which are their main and only diets. Since all mother members and their husbands are unemployed, this agriculture is their main business which brings the least needs to build their sustainable lives. However, when climate changes occur in Kenya, they struggle to grow food, so that struggle to build up their business and meet the least needs of living.
In 2010, the Famine Early Warning Systems Network determined that rainfall in central Kenya has declined by more than 100ml since 1990, due to the country devastated by warming in the Indian Ocean which seems like to continue(2). This decline of rainfall illustrates possibility of useful lands threatened, so that farmers would have smaller lands to grow their food.
In this case, the most important alternative aid to be given would be to educate farmers how to deal with climate change, and train them to thrive with the climate challenges – over agricultural business.
John Gathenya, climate change research fellow at the Walker Institute for Climate System Research, told IRIN, "Climate change might have adverse effects on farmers, but if they are given information and the right technological transfers to improve farming and change their farming methods, they can thrive. As it is now, farmers are shying away from investing in agriculture because they are risk-averse," (Gathenya 2014)
Most importantly, while farmers should be encouraged to prepare their agricultural business for changing climates, help from the government is a vital to thrive in the challenges which farmers are devastated Perhaps, the government can deliver information from research institutions to help farmers have knowledge of better agriculture.
John Gathenya also noted, "… we can invest in the research that can generate innovations, like drought- or heat-tolerant crop varieties, and the agricultural advisory services critical to ensuring farmers are able to make use of these crops," (Gathenya 2014)
In addition, developed countries taking real actions to stop global warming and paying climate debts to poor countries that are devastated by climate change, would be another vital solution.
In fact, it is estimated that if Kenyan farmers meet the necessary support to adopt themselves to thrive in climate changing and if the country sees the vital technological development, their maize production could increase by 60 to 100 percent(2).
Indeed, helping farmers preparing to be able to adopt and deal with changing climates and assisting climate devastated countries with technological development would support larger quantities of food to be grown – then this gives better business conditions in agriculture and so delivers sustainable livings to the farmers and their families in developing countries.
1 Sydney Morning Herald, As long as the rich can speculate on food, the world's poor go hungry (2012):
http://www.smh.com.au/federal-politics/political-opinion/as-long-as-the-rich-can-speculate-on-food-the-worlds-poor-go-hungry-20120630-219ja.html
2 IRIN, In Kenya, Climate change to create new breadbaskets (2014):
http://www.irinnews.org/report/98782/in-kenya-climate-change-to-create-new-breadbaskets,
A Comprehensive Analysis, East African Agriculture and Climate Change (2013): http://www.ifpri.org/sites/default/files/publications/climate_kenyapreview.pdf