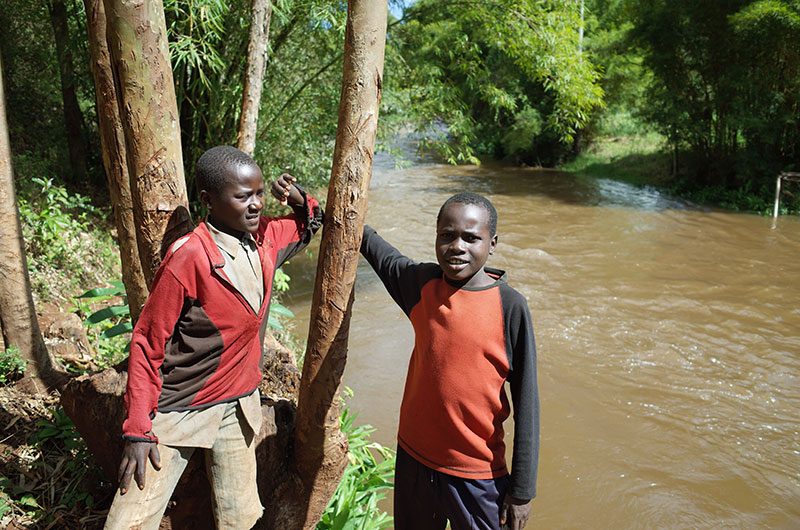 READYFUNDGO CAMPAIGN COUNTDOWN 5
JAMBO !
Happy Friday to you all !
4 DAYS LEFT until we launch our ONLINE FUNDRAISING CAMPAIGN !!
This morning, one of the boys from Teresa's neighborhood took us to show around the Nyeri village.
Within 10 min walk from Teresa's house, we could see a small river and very nice view of the mountains !
On the way back to Teresa's house, we stopped at one of our mother members' houses

There, we got very very yummy bananas from her farm! We were so thankful !
When we reached back to Teresa's home, we found Teresa finalizing making baskets so that we can take them with other products for our customers and fans

We always get inspired by her creative ideas and her strong motivation on hand making.
Once she sits on the sofa and start making the products, she would't talk or look anywhere else but concentrates only on making the products.
That is how the good designs and the best quality are created !
Whist we were waiting for Teresa to finish making the products, we decided to film our founder to make an introduction scene of our campaign promotion video.
To film the scene, we asked for a help from our mother members' children

Our founder loves and loves children, so she let one on the children sit on her laps whilst she spoke the introduction.
In order to film the best introduction, we did several takes.
Therefore, it took us some time to finalize the filming.
Whilst even our founder was getting tired of the filming, the children who helped for the filming were so patient, that they did not say a work to complain.
This is actually common to see in African countries.
We often see children in African rural areas are so patient that they barely complain and they often listen to what adults/parents tell them to do.
SO! With the big help from the children, we succeed filming a nice introduction scene for our campaign promotion video

!
When we came back from the filming, we found Teresa finished making the baskets

They were made very nicely and we were so grateful !
As Teresa saw us coming back from the filming, she offered us some lunch, however we had to rush back to Nairobi to do some more preparation for the campaign


So we asked Teresa to pack the lunch for us so that we can take them for our trip back to Nairobi !
Teresa kindly packed the stir-fried cabbages, ugali, banana, fried plantains and fried eggs she cooked


Whenever we visit our mother members' houses in the villages, we always go home with tone of food

!
With the BEST souvenir, we said good bye to Teresa and the other mother members in Nyeri and left to Nairobi.
Now, with the best photo shots and the films we took, we are ready to make the campaign promotion video !
Be EXCITED to see the video NEXT TUESDAY 28th !!
SHARE this blog on FB so that the world would know about this GREAT NEWS !
Thank you for reading our blog today!
See you Kesho (Tomorrow) !
LOVE from Hold Mama Africa xx